The next meeting will be …. the MAC2 Spring MiniConference will held Thursday April 26th, 2018 in Orillia at the Lion's Oval Public School.
The guest speaker will be Mark Chubb from District School Board of Niagara.
Join MAC2 as we focus on making math visual.
Dinner included for only $15 for members and $20 for non-members
Register online at http://oame.on.ca/MCIS/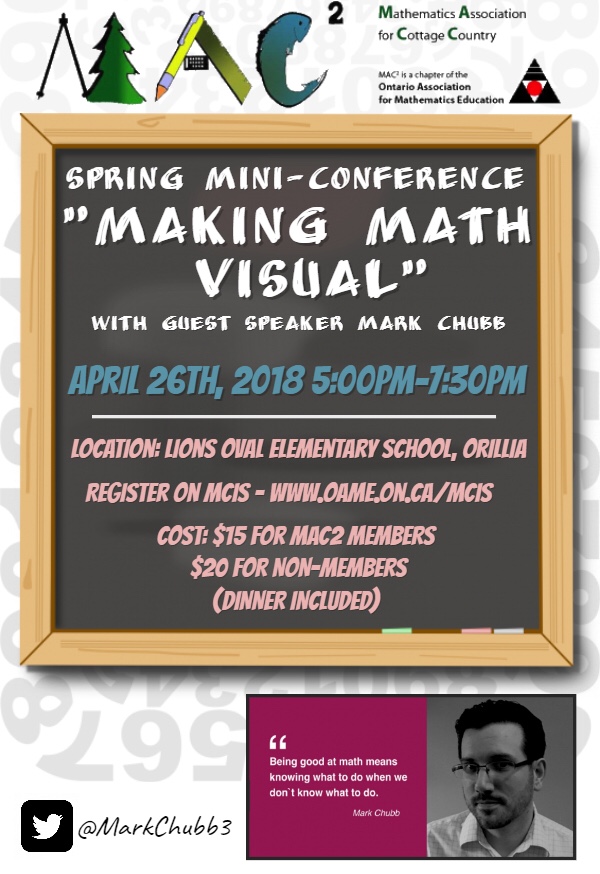 Our regular monthly meetings for the 2017-2018 school year will be held the THIRD TUESDAY of every month (except for December and June). The next meeting after the mini-conference will be Tuesday May 15th, starting at 5pm. (YES – there is NO meeting in DECEMBER – Merry Christmas!) You may attend the meeting at the Barrie location, at St. Joseph's High School – Professional Activity area – second floor – OR – in Bracebridge, at the Muskoka Ed Centre. This will be the final meeting for the MAC2 Book Club. We will also select our MAC2 executive for the upcoming school year at this meeting.
Festivities to be determined.
———–
Thanks to all who came out to the MAC2 Autumn Mini-conference (and AGM) with Shelley Yearley. A large fraction of the people attending enjoyed it immensely and learned lots!
———–
Thanks also to all who came out to the first ever MAC2 Reunion held Sunday September 10th, where the new Jack LeSage / MAC2 Classroom Teacher Award was announced, and an Lifetime Achievement award and plaque was presented to MAC2 founder, Jack LeSage. Details and pictures to be posted shortly.
———–
Check out the FILES tab for information and application forms for the PD Funds Application (for conference attendance support) and the MAC2 Grant Application (for school events)